Sep 11, 2008
The Daily Kos and others have picked up on a new mantra this past week: "Jesus was a community organizer [like Sen. Barack Obama] and Pontius Pilate was a governor [like Gov. Sarah Palin]." Tamara Butler asks, "whose side are the Daily Kos and its friends on anyway?"
Isn't it just so amazing how people keep comparing Sen. Obama to Jesus Christ? It would be such a hard thing, I'd imagine, for Sen. Obama to try and get beyond. Why do people keep doing this? It has to do a job on his head – even a "normal" person like you and me – would have to fight the urge to not let that comparison enlarge our pride a bit if people kept comparing one of us to Christ!
The poor guy faces temptation after temptation; consider his temple like stage that he had while excepting the nomination the other night. What damage some can cause by pointing out the grand look of his stage. I am not sure that I would have even noticed. Well, maybe a bit when the fireworks show went off, but before – I'm not so sure. What on earth are these people thinking when they create these things?
And then we have the Pontius Pilate comparison. Did you about fall off your chair when you read it? Did those people making that slogan realize that the governors in Roman times did many highly important tasks? The top four were to be responsible for collecting taxes, to be the accountant who kept the books in order, to administer justice in the towns, and to command the army.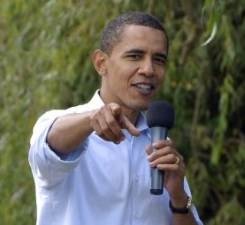 Source: Obama for America
Another thing that the slogan writer probably did not know is that Pontius Pilate was a different type of governor. His administration was different for reasons that will probably never be fully understood. Unlike other governors, he had to act alone for the first six years of his term of office. This meant that Pilate could not fall back on the Syrian governor or his troops. In case of an emergency, Pontius Pilate had to rely on his own judgment. And not insignificantly, there is positive proof that Pilate embarked upon a policy of cooperation.
Since there was no Syrian governor to mint coins, Pilate had to do it himself. The coins show the staff of an Italian seer on one side, and a bunch of grapes on the other, which is the usual picture on any Jewish coin. Pilate thus combined inoffensive pagan and inoffensive Jewish symbols, which probably reflects a policy of equal rights to Jews and pagans. He would not force the Jews to lay down their ancestral ways; he invited them to be Rome's equals. This furthers my belief that Pontius Pilate was just an instrument in the life of Jesus to get Jesus where he had to go.
I have always felt somewhat of a sense of pity for Pontius Pilate; he has been condemned by many who didn't really look at him, what he believed and what the masses made him do. I read about him and of course watch programs about him and usually find myself seeing that he was just a person smack in the middle of a greater plan. In a way, he helped to show the way.
I have to ask, then: is this a Democratic or Republican slogan? It sure is slanted don't you think? While I differ with my Democratic friends on many views, it makes me mad when I see others trying to hurt them with slogans like this. Why on earth can't we as humans quit with the innuendos? To those who support Sen. Obama, I am sorry if this slogan made you feel sad. Just remember, I am sure that there are lots of things out there that are aimed at hurting the Republicans too.